Employees at RGE (Royal Golden Eagle) and its business groups who have heard Founder & Chairman Sukanto Tanoto in-person are familiar with his refrain that it is not only by the legal licenses obtained from the government that its companies across the world are allowed to operate, but the social license earned by partnering local communities and by uplifting them. This eventually became crystalized in RGE's 5Cs philosophy.
This year, in marking his 50 years as an entrepreneur, Sukanto Tanoto further encoded ethical behavior and business excellence into the DNA of RGE and its business groups by launching the Core Values. These Core Values–Complementary Team, Ownership, People, Integrity, Customer and Continuous Improvement–are designed to provide a unifying framework and code of conduct to guide employees in the years and decades ahead even as the companies continue to grow.
To signal the importance of the Core Values, RGE leadership including Vice Chairman Bey Soo Khiang and Director Anderson Tanoto as well the heads of its business groups led a series of employee workshops, which will continue until all the markets and geographies RGE and its business groups operate have been reached.
And while these Core Values were officially institutionalized in 2017, the mindset and behaviors underpinning them have long been practiced by RGE employees in their daily work. In this edition of Inside RGE, we bring you real-life examples shared by our employees at some of these workshops.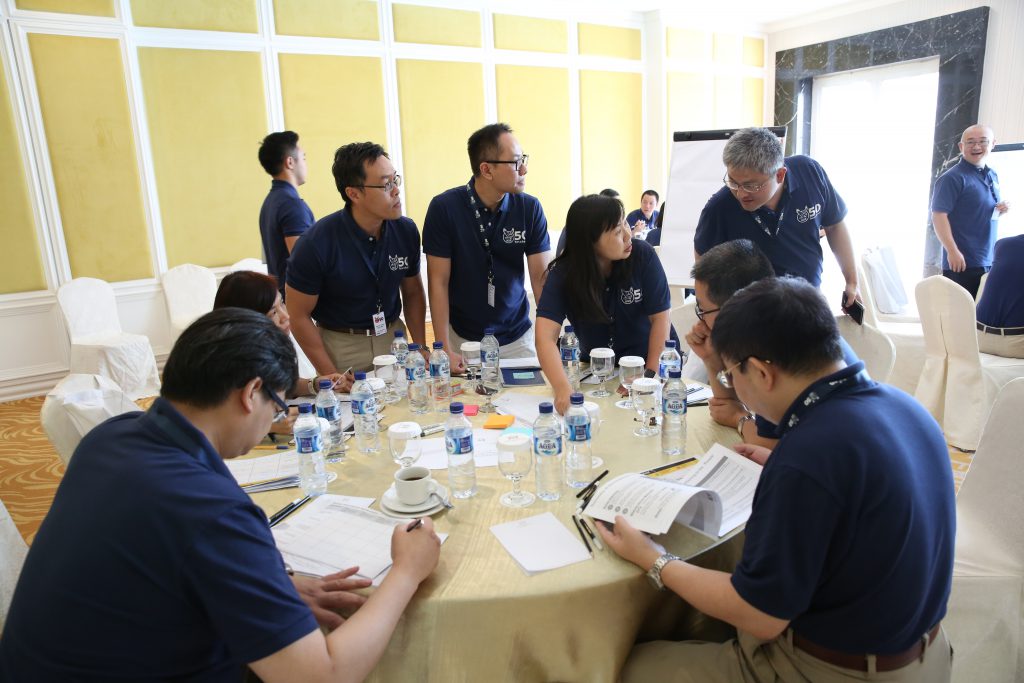 Complementary Team
"PO&G's project team in Rizhao was handling two major events back in May of 2016: A meeting between Chairman and a senior provincial official of Shandong and the signing of the investment agreement for the Rizhao Clean Energy Comprehensive Utilisation Project. As the department's hands were full and time was running out, the project team reached out to Asia Symbol Shandong for help. Thankfully, Asia Symbol was more than willing; in a short time, we managed to set up a team from various departments to manage the events successfully. The speed at which things happened and the wonderful synergy resulting from the collaboration between different BGs underscored the importance of teamwork." — Chun Yi, Pacific Oil & Gas
Ownership
"Typhoon Meranti, the strongest typhoon on record at 173km/hour, hit Xiamen city on 15 September 2016. Despite the local government's advice to stay at home, our management remained in our power plant to ensure that all safety measures were in place. As expected, our plant was not spared from the devastation of the typhoon. Thankfully, our employees rallied and sprung into action for recovery work. Through our combined efforts and positive attitude, we were the first plant in Xiamen to recover from the crisis." — Gui Zhen, Pacific Oil & Gas
People
"As a young graduate in 2011, I joined RGE as a management associate and was posted to Asian Agri. My formal training started at the Asian Agri Buantan Training Centre, where I joined all the other Indonesian Graduate Trainees for the estate training program. The regimented life reminded me of national service in Singapore, but also underscored to me that a disciplined life is required for success in this trade. Subsequently, I was rotated through Asian Agri's estate and HR departments, as well as Apical's CPO and export departments, where I witnessed how Asian Agri enabled communities to grow with the company. In recent years I've been exposed to risk management and trading functions where even though I'm a junior, I'm encouraged to give my views and learn from my seniors." — Yean Lih, Apical
Integrity
"One day, I received a call from a friend who had just returned to Indonesia. As it turned out, he was working for our competitor. Towards the end of our conversation, he invited me to 'work together.' I told him that while it was nice catching up, I would not be interested in any further interactions that involve giving away company information. He never called again." — Nitin, APRIL
Customer
"In China, one of our key customers for copier paper once made a request for a product that weighed between 79 – 80 grams per piece. At that time, it seemed like an impossible task since industry standard allowed for 2 grams deviation. After several rounds of brainstorming, testing and adjustments, we were able to do the unprecedented – optimise our paper machines and produce paper that was 79.5 grams per piece. Our customer was so happy that they increased their orders by nearly 10 times." — Steven, Asia Symbol
Continuous Improvement
"In anticipation of a big oil palm harvest, I asked my team to hire more people to address the manpower shortage. Although many were hired, the new workers started to quit one after another, citing that our daily quota of 3 tons/day was an impossible target. Our suggestion to use the harvesting rickshaw (becak panen) was initially rejected due to their unfamiliarity with the equipment. However, we persisted and managed to convince one worker to use the rickshaw on a trial basis. This worker managed to harvest about 4.8 tons/day and he earned a higher income. Soon, other workers requested to modify their motorbikes into harvester rickshaws." — Irvan, Asian Agri