Earlier this month, three staff from RGE business groups and Tanoto Foundation volunteered on a humanitarian mission to bring personal protective equipment (PPE) to Indonesia. The donation by RGE and Tanoto Foundation – comprising 1 million medical masks, 1 million surgical gloves, 100,000 protective gowns (PPE) and 3,000 surgical goggles – would later be distributed to healthcare professionals in Indonesia's fight against the spread of Covid-19.
Boarding a chartered Garuda Indonesia aircraft, the three staff joined the flight crew and the airline's volunteers, and made a day trip from Jakarta to Shanghai and back. Not only did they help ensure the safe passage of the third and final batch of donated PPE to Indonesia, they also documented and shared their experiences on this rare yet important mission.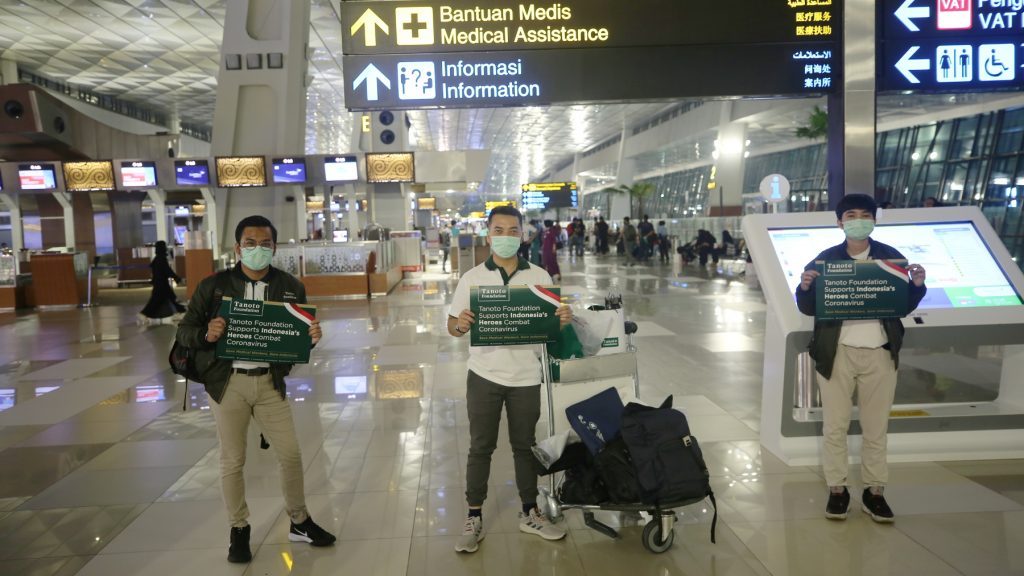 All three – known by friends and colleagues as Fembi, Rere and Yosea – received calls from their respective management who asked if they would like to support the mission. They volunteered without hesitation. Although two of them (Fembi and Rere) are former Tanoto scholars now working in leading pulp and paper producer APRIL Group, all three shared the same sense of purpose in supporting the nation's fight against the pandemic.
The three had to follow strict health protocol before, during and after the mission, and observed a 14-day self-quarantine after that. The experience all more raised their already high levels of appreciation for healthcare professionals in Indonesia and all around the world, who continue to indefatigably fight the spread of the coronavirus.
In Their Words: Reflections from Volunteers
"If I had chosen to sleep and done nothing, I would not have been able to make a difference in helping out on this humanitarian mission… As a human being, is there more I could offer other than my humanity, care and the willingness to help others?" – Rere. View full blog here.
"After going through customs, those 30-ton PPEs were progressively loaded into the plane. Some of them went into the cargo compartment, and others into the passenger cabin: On the seats and even the overhead compartment. The loading process took a gruelling 3.5 hours." – Yosea. View full blog here.
"In this extraordinary situation, we are required to contribute in our own ways. The medical professionals play their part, and so do volunteers in disaster relief. Tanoto Foundation has committed to donate PPE to Indonesia's medical heroes. As an Indonesian youth, I felt the need to do something, and I am glad I was part of this humanitarian mission. We did what we did because we wanted to ensure the donations were brought to Indonesia." – Fembi. View full blog here.
Watch this video to find out more about the people and work behind the donations by RGE and Tanoto Foundation: