"Change is now coming from Asia. Don't be arrogant. Reach out to Asia" – Erik Solheim.
The themes of scale, change and dialogue were a common thread that ran through a luncheon on the sidelines of the 2019 Textile Exchange Sustainability Conference in October. RGE Vice-Chairman Bey Soo Khiang addressed the room of like-minded stakeholders and shared RGE's commitment to next-generation textile fibre innovation and technology. He shared how tapping on closed-loop technologies and scaling these technologies will be pivotal to changing the landscape for sustainable fashion, and that RGE business groups in Indonesia, China and Brazil are already moving in that direction. Additionally, RGE had announced ahead of the Sustainability Conference a US$200m investment over the next 10 years to help fast and linear fashion become more circular and sustainable.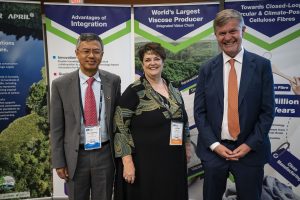 Mr Bey's keynote address was followed by an engaging fireside chat involving Erik Solheim, former Executive Director of UN Environment Programme and former Norway Minister of Environment and Minister of International Development. Mr Solheim addressed the continuing relevance of inter-stakeholder dialogue towards supporting and incentivising sustainable practices, and highlighted a global need to recognise Asia's increasing influence in sustainability leadership and technologies.
Bey Soo Khiang: Scaling Impact of Closed-loop Manufactured Viscose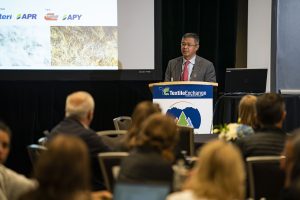 In his keynote, Mr Bey shared that RGE companies in Indonesia, China and Brazil already occupy sizeable and unique upstream positions in the textile industry, with Sateri and Asia Pacific Rayon collectively being the world's largest viscose producer.
As evidenced in the announced commitment, RGE companies leverage these advantages to pursue technologically advanced, sustainable textile fibre solutions for commercial production. This reflects the company's strong belief that plant-based fibres like viscose have tremendous potential to meet global textile demand and consumer needs in an environmentally sustainable way.
The challenge, which Mr Bey highlighted in his address, was scalability. This involves deepening collaboration with stakeholders across a wide range of interests, to bring to the wider market promising pilots with the potential to make a lasting difference. Mr Bey then emphasized the need to move from niche to mass market in order to drive and sustain the transformative impact of closed-loop manufacturing of renewable plantation-sourced viscose.
Erik Solheim: Of Change, Incentives and Dialogue
Moderated by La Rhea Pepper, Managing Director of Textile Exchange, the fireside chat with Mr Solheim followed the keynote address. The esteemed Mr Solheim opened the session by sharing significant yet understated instances in human development history that hinged on change being embraced and harnessed for the betterment of humanity. 
After taking event delegates through an engaging analysis of slavery, transport, circularity and sustainability, Mr Solheim pointed out two ingredients that could significantly contribute to progress in sustainable development.
First, he encouraged dialogue among business, government and non-government entities. Because of the traditionally strict divide between government and business in most nations, he observed that governments tend to implement regulatory frameworks that lack sufficient depth of insight into business. This thus excludes and disincentivises sustainable businesses and business ideas. Dialogue between stakeholders can address these gaps.
Mr Solheim added that competitors in the same sector should collectively define common interests and work towards having dialogue with the government, so that effective regulations could be developed. With effective policies, markets could also be restructured in a way to make recycling even easier.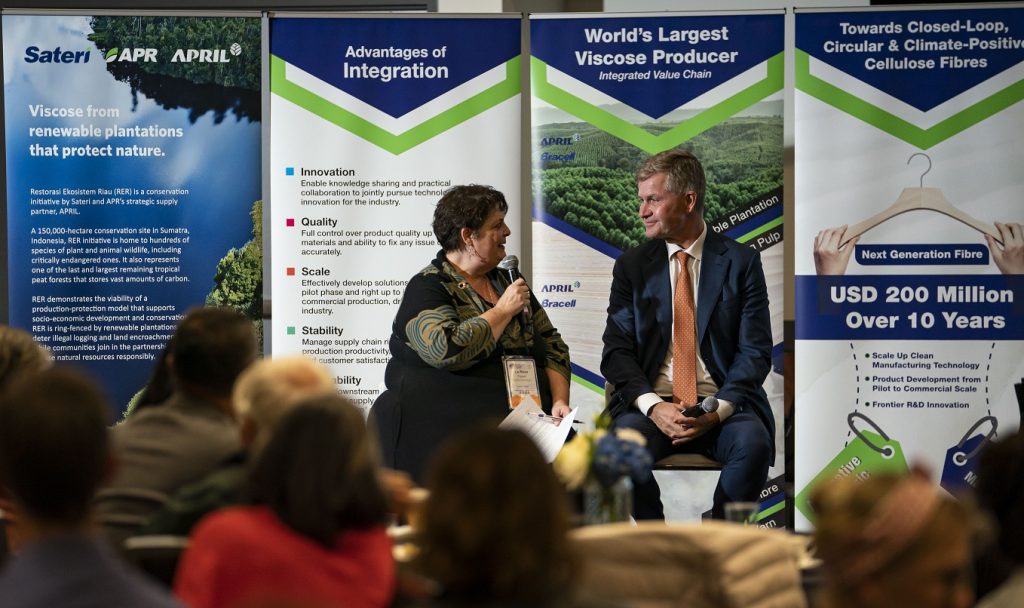 Name and Fame to Drive Impact
Those who do well should be famed. People are very reluctant to do that, but that needs to happen. Not all customers are interested in the environment, but if 20% are ready to buy products from companies that are environmentally responsible, it can have a huge impact on markets. But people still need to know (about these companies), so the media and civil society should name and fame these companies. – Erik Solheim
Second, Mr Solheim suggested ramping up the "name and fame" approach to encourage and incentivise circularity and sustainable practices in businesses. He added that as stakeholders in business, government and civil society contribute more to supporting and incentivising sustainable practices, it would drive impact in the markets.
Rounding off the fireside chat, Mr Solheim said that change brings with it opportunities. With Asia developing and growing at a rapid pace, he urged American and European nations to humbly reach out to Asia and work on partnerships for change. He also added that the increased adoption of blockchain technology is one area that could support greater trust and accountability in sustainable practices, going a long way to strengthening these partnerships.
Check out the video recording of the fireside chat with Mr Erik Solheim below: