The town of Pangkalan Kerinci, commonly known as Kerinci, is part of Pelalawan – a regency of the Riau Province; the economic hub of the island of Sumatra and one of the richest provinces in Indonesia due to its abundance of natural resources. Travelling to Pelalawan involves firstly flying to Pekanbaru in Riau and then disembarking at the SSK II International airport, followed by a 15-minute flight landing at a private airstrip that is owned by one of Indonesia's largest resource-based manufacturing conglomerates – Royal Golden Eagle (RGE).
Unigraha Hotel is the only three-star hotel in Kerinci. It is spectacularly perched on top of a hill amidst verdant slopes located in the manufacturing site of Riau Andalan Pulp & Paper (RAPP), a subsidary of APRIL, an RGE company. Looking out across the horizon from the hotel are rows and rows of oil palm and acacia trees.
To the rest of the world, very little is known about this little town; but it is Kerinci that provides the world more than 2.8 million tonnes of pulp and 850,000 tonnes of paper per year. This town also houses RGE's key palm oil manufacturing operations. Together with mills in North Sumatra, Jambi and other parts of Riau province, 1 million metric tonnes of crude palm oil (CPO) is produced annually. Kerinci is the nerve centre of RGE's integrated pulp and paper manufacturing activities and an important palm oil operational hub through its independent companies – APRIL Group and Asian Agri.
Proof of Concept
Twenty five years ago, Kerinci was a mere village of 200 dwellings, where most inhabitants were either fishermen or engaging in illegal logging. The only way to get to Kerinci was by boat and foot; there were no roads.
Today, the living conditions of the town's population are vastly different. Town numbers have swelled to 102,296 inhabitants, more than 11,000 kilometres of road have been laid, there is a small airport, and two shipping ports that transport pulp, paper and oil palm products to the rest of the world.
The town also has an electricity power plant with capacity of 530 megawatts (MW); of which 85 percent of the pulp and paper mill's energy consumption is derived from biomass wastes such as wood bark and palm husks to generate renewable energy, significantly reducing its reliance on fossil fuel. Its palm oil mill is also at the forefront of renewable energy technology with a US$4.7 million biogas plant which produces 1.4 MW from biomass waste collected from the palm oil mills.
Kerinci is a proof of concept that government, private and community partnerships can be meaningful and successful. What the town has become today reflects a commitment to collaborate so that stakeholders grow together in harmony with social and environmental needs in that area. Today, smallholders manage 60,000 hectares of plantation and they work closely with Asian Agri to supply the world with palm oil.
At 51 years old, Sunarto moved to Riau and settled in Kerinci as part of the government's transmigration program in the 1980s.He joined the Asian Agri Plasma Scheme, became a Plasma farmer and acquired 2 hectares of land. Today, he is married and owns a grand house. Three-quarters of his land is used for oil palm plantation and the rest for his house. "Being a Plasma smallholder has given me the freedom to harvest my land while at the same time, the security of sale and the knowledge needed to make the best use of my land.  This has worked well for me and my family's standard of living," Sunarto explains.
A Necessary Co-Existence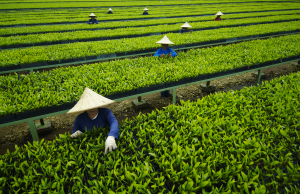 Across the horizon, where the edge of a tree-lined view is punctuated by towers of industry sits RAPP's pulp and paper mill. The mill is a stark contrast to its surrounding green forest. Here is a fragile co-existence of man and nature. The process of finding harmony and sustainability has been a long and contentious journey but adopting sustainable forest management policies as well as research and development have helped both company and nature create a harmonious momentum.
Apart from its remarkable mill, Kerinci also houses state-of-the-art research and development on forestry. In May 2012, RGE Technology Center was opened and in its laboratories, scientists have conducted a series of studies that included research on evolving the best seeds to developing natural predators to suppress pests. Located after a five minute drive from the RGE Technology Center is the Kerinci Central Nursery, where planting experts and veterans optimise reforestation by preparing Acacia and Eucalyptus leaf cuttings; growing and nurturing them with extreme care before they are ready to be planted in the plantations.
In the world of forestry and agriculture, balancing the need to safeguard the environment and enhance the interests of local communities, while continuing to operate a sustainable business is key to long-term development and growth. Kerinci may be a small town but this little town speaks volumes on the success of such endeavours and is a case study of how partnerships between businesses and community can be successful in mobilising the rural population.
The above article is published in the Jakarta Globe on April 20, 2015. The whole feature may be viewed here.